26th September

Inventory: Mandatory Export Fields
Accounts using Inventory can now set fields to mandatory, which prevents users from exporting while data is missing.
In Inventory Settings, Admins can select a combination of the following options:
Case Quantity
Unit Type
POS Code

By default, Case Quantity and Unit Type will be on, but these can be disabled at any time.
Bills with missing data will be flagged in Panel 1 with an icon, while data is missing users will not be able to click the Export to [Inventory Software] button.

Please Note: If you change Inventory Settings while you have documents in the Inventory tab, the changes will not be applied to those documents. Only the documents that are added to Inventory after the Settings are updated will see the changes applied.
18th September

My Tasks: Duplicate Flag

While on the My Tasks page, users will be made aware of any Duplicate documents within their Lightyear accounts.


Clicking on the Duplicate icon

will redirect you to the Archive where you can see the duplicates of the document.

Please Note: If you only have Task Approval permissions, you won't be able to see the Archive. You will need to have Task Approval & Archive, Standard User or Admin Permissions.
Accountancy Software: Adept - PO Number

Accounts connected to Adept will now see the extracted/entered PO Number on their TXT fields to be imported into Adept.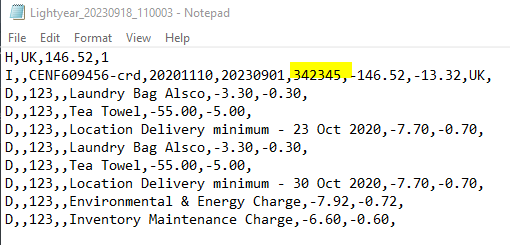 14th September

Filtering: Approval Tasks

Users are now able to filter on the Approver, Manager Approver and Conditional Approver Tasks within the Approvals Workflow tabs (Approvals, Review and Disputed).

This gives users the ability to filter on the Task Status, Task Owner or a combination of both.

To use the filter, click the
Filter Icon
in the top right of Panel 1, select the
Dropdown
over the Task column and you'll be presented with this dropdown option:

Select the Statuses/Owners you wish to see.

If you want to mix and match the Status/Owners, you will see the documents that match at least one of the options set. For example, if I want to see all Approved or Declined tasks against Joe Bloggs, Jess Callaly and Miri Oates-Chapman, I can select: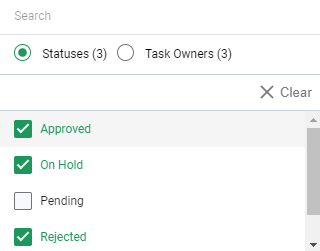 And I will see the result as follows:

To clear out the Filters selected, click the Clear button within the dropdown.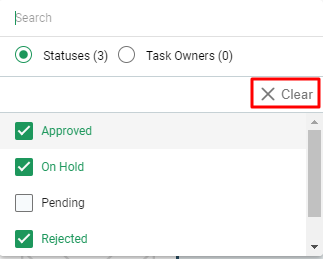 11th September

Accountancy Software: Sage Intacct - Rounding

After export, accounts connected to Sage Intacct may now see a Rounding Adjustment line on their Bills. This is to help fix any differences in calculations as Lightyear rounds to 4 decimal places, and Intacct rounds to 2 decimal places.

Please Note: This Rounding Adjustment line will only appear on Bills, and not Adjustments - as Sage Intacct doesn't allow lines with positive values on Adjustments, which are sometimes required to calculate the total correctly.
7th September

Two Factor Authentication

We have added a new method for users wanting to increase their security with Two Factor Authentication.

Previously we only offered Text Message (SMS) verification.

Now users can use an Authenticator App on their mobile phone to generate a code and log in to Lightyear.

For information on how to set this up, click
here
.