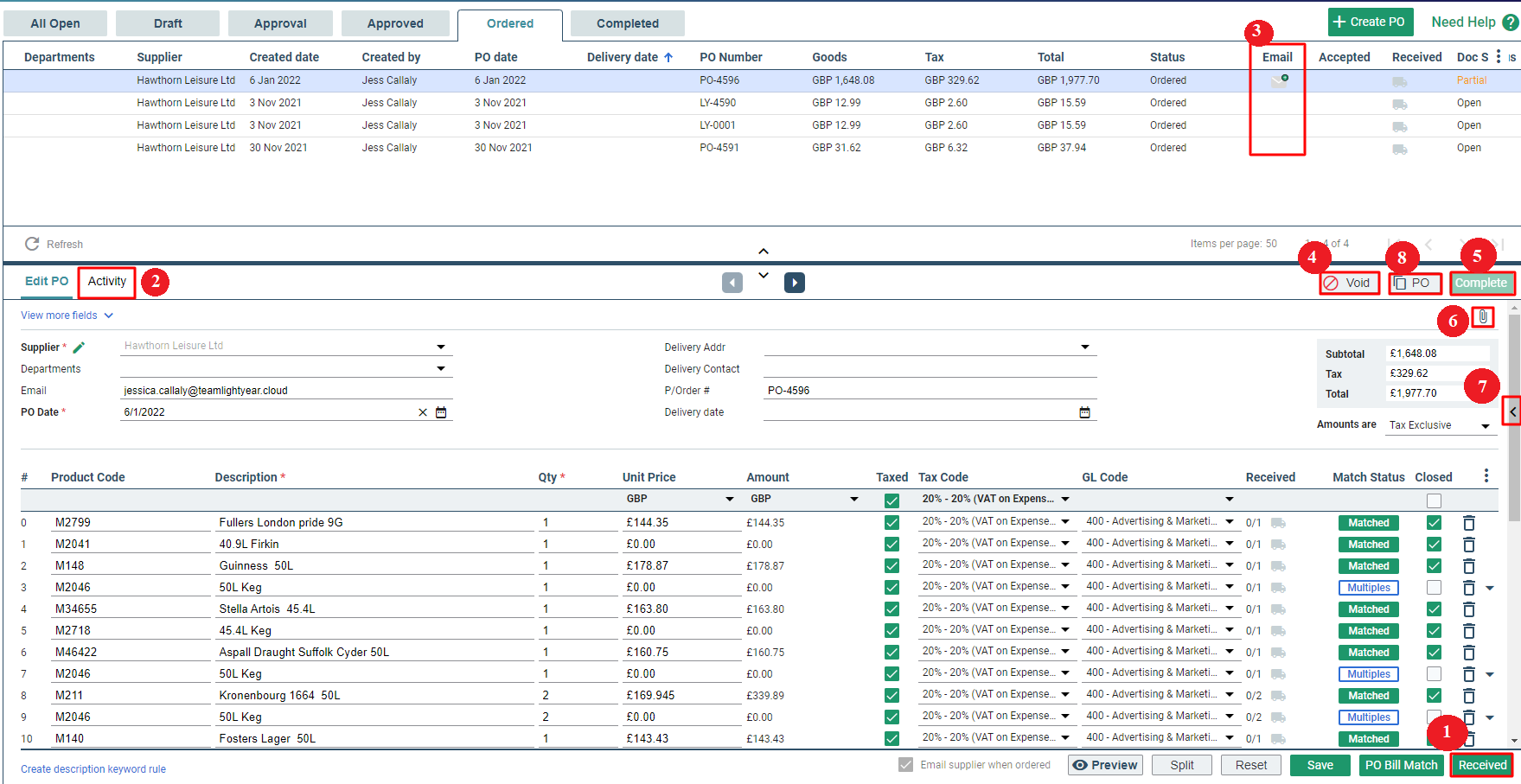 Here you can do a number of things including:

Click Received to complete delivery of your goods/services for 2 way matching

Leave notes and view activity history under "Activity > Notes / Activity"

Email the Supplier

Void the PO

Click on Complete which will transition the PO to the next tab - "Completed"

Attach any supporting documents via the Paperclip function

Select the side arrow and expand/collapse to present/hide your PO image as required

Copy the PO and enter the information into a new PO
You will not be able to make any further edits or delete your PO at this stage, however you will be able to void the PO of record keeping purposes.
Image of Purchase Order

When you have Panel 3 expanded, you will then have the standard Panel 3 options such as:

View full screen

Download the document

Pint the document

Zoom in/our

Rotate right/left

Don't forget you can customize the columns you are seeing in Panel 1 and the headers of the line item details in Panel 2 via the
settings.
Email your suppliers

Click on the email icon in order to trigger the emailing of the PO to your supplier.

You can customize the body of the text, mark as urgent (if their email settings allow for this) and enable received notifications from this pop up window.

Up to 10 emails can be entered in the CC: field, once you have entered one, click the enter key on your keyboard to enter another one
You also have the option to "Close and don't send" or "Send now"

Receive your goods/services for 2 way matching

Lightyear POs will help you 2 way match your POs against your goods/services received at a line item level. This will be a massive time saver to help you accurately check against the goods delivered so you can confidently close out and complete your POs.


NOTE: click here to learn how 3-way matching works!