28th February

Enhancement: Approval by Value

Users can now add up to 8 Conditional Approval conditions in both the Bill Approvals Workflow and PO Workflow.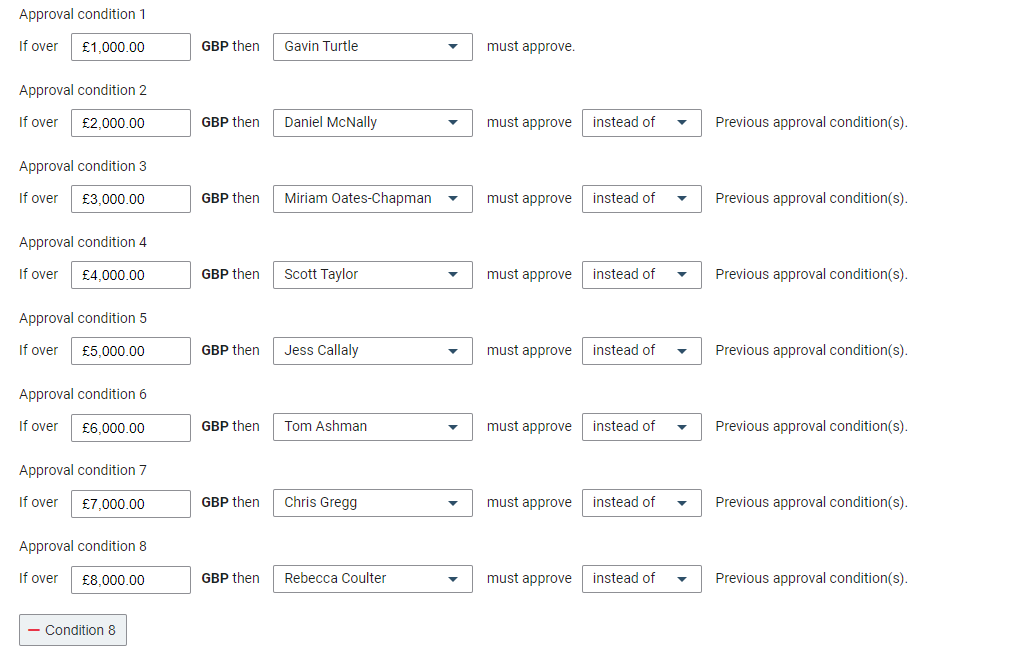 This functions in the same way as 2 Conditional Approval conditions, but allows more users to approve at different values.
For full information on how this works and how to set this up, click
here
.
Bug Fix: Skip Multiple Steps in One Click
Following the release on the 25th, we have fixed some minor bugs that cropped up over the weekend!

Issue: Users trying to Create & Order a PO in one click were not seeing the popup modal usually displayed with the Order Now action.
Fix: This modal will appear as expected, when users have entered a Supplier Email Address and ticked the Email Supplier When Ordered option.

Issue: Users in a Single Workflow Approval set up with Approve only Permissions weren't able to see a button to move documents through to the Signed Off tab

Fix: These users can now see a button to Sign Off

Issue: If a user tries to create a Purchase Order with a Default Approver selected, they weren't able to click the Approve button.

Fix: POs can be created with or without a Default Approver selected.

25th February

Enhancement: Skip Multiple Steps in One Click

We have introduced the ability to Approve and Export an Invoice/Credit Note or Approve and Order a Purchase Order in a smaller number of steps. A couple examples of this in action are below:
If a document is in the Approvals tab, users can move it through Approvals > Review > Signed Off > Export in one click.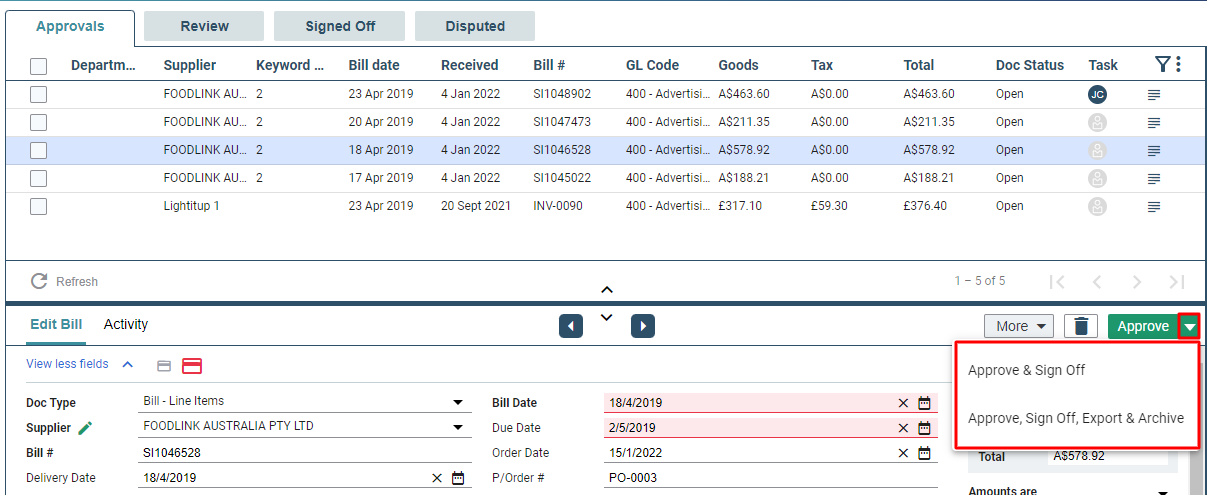 In the Review tab, users can move the document into Sighed Off and Export in one click.


For Purchase Orders, a user Creating a PO has the ability to send the PO through to Approved or Ordered in one click.
Finally within the Approval tab, a PO can be moved through the Approved tab and into Ordered in one click.



Please Note: This only applies for users who have the correct permissions. For example, if a user only has Approve, they won't be able to send a document from Review to Signed Off.


Warning: If the document meets the conditions for Approval by Value, the document will stop in the Review (Bill Workflow) or Approve (PO Workflow) tab until the relevant users approve.
16th February

Accounting Software: Sage Intacct

We have officially launched our integration with Sage Intacct!! 🎉

Both new and existing Lightyear accounts can connect to Sage Business Cloud through the Accountancy area. Full details of this integration can be found
here
.
Bug Fix: Purchase Orders: Columns Not Appearing Correctly

When clicking from the Bill Approval Workflow to the Purchase Order Workflow, the columns were being pulled from the previous workflow, sometimes incorrectly.

For example, if viewing a Bill - Service in the Bill Approval Workflow, and you change to the Purchase Order Workflow, Panel 2 would remain displaying the columns from the Bill Approval Workflow, preventing a user from viewing Product Code, Qty and Unit Price in a Purchase Order.

This fixes the issue, always displaying the columns saved from the Bill Approval Workflow or Purchase Order Workflow.
10th February

Bug Fix: Purchase Orders: Line Matching Colours

A minor bug related to the release on 9th February meant users weren't able to see the colours displayed when matching line items. This has now been resolved, displaying the colours to indicate a match/no match where necessary.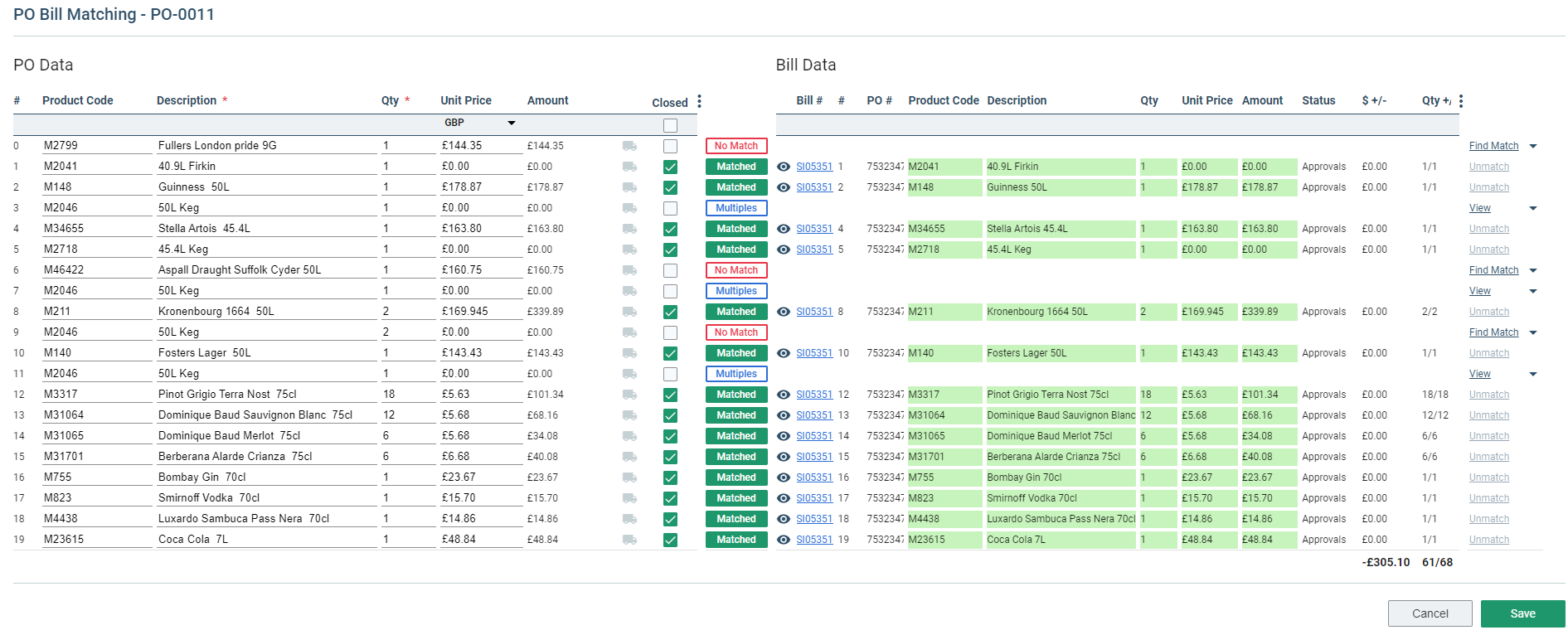 9th February

Purchase Orders: 3-Way Matching Suggestion Criteria

Previously while matching, if users had more than one Matching Criteria selected, we would display suggested matches (Multiples or Partial) if at least one criteria matched. This resulted in hundreds of potential matches if the data on the PO/Bill was generic i.e. Quantity=1.

We have introduced the concept of Suggestion Criteria, allowing users to define what is displayed as a suggested match. For example, Matching Criteria can be set to match on all 6 rules, meaning lines which match exactly on these 6 rules will present as a Full Match. Suggestion Criteria can be set with 3 matches, meaning only lines that match this criteria will be displayed as suggestions.

The below Matching and Suggestion Criteria has been set, and will display the following results: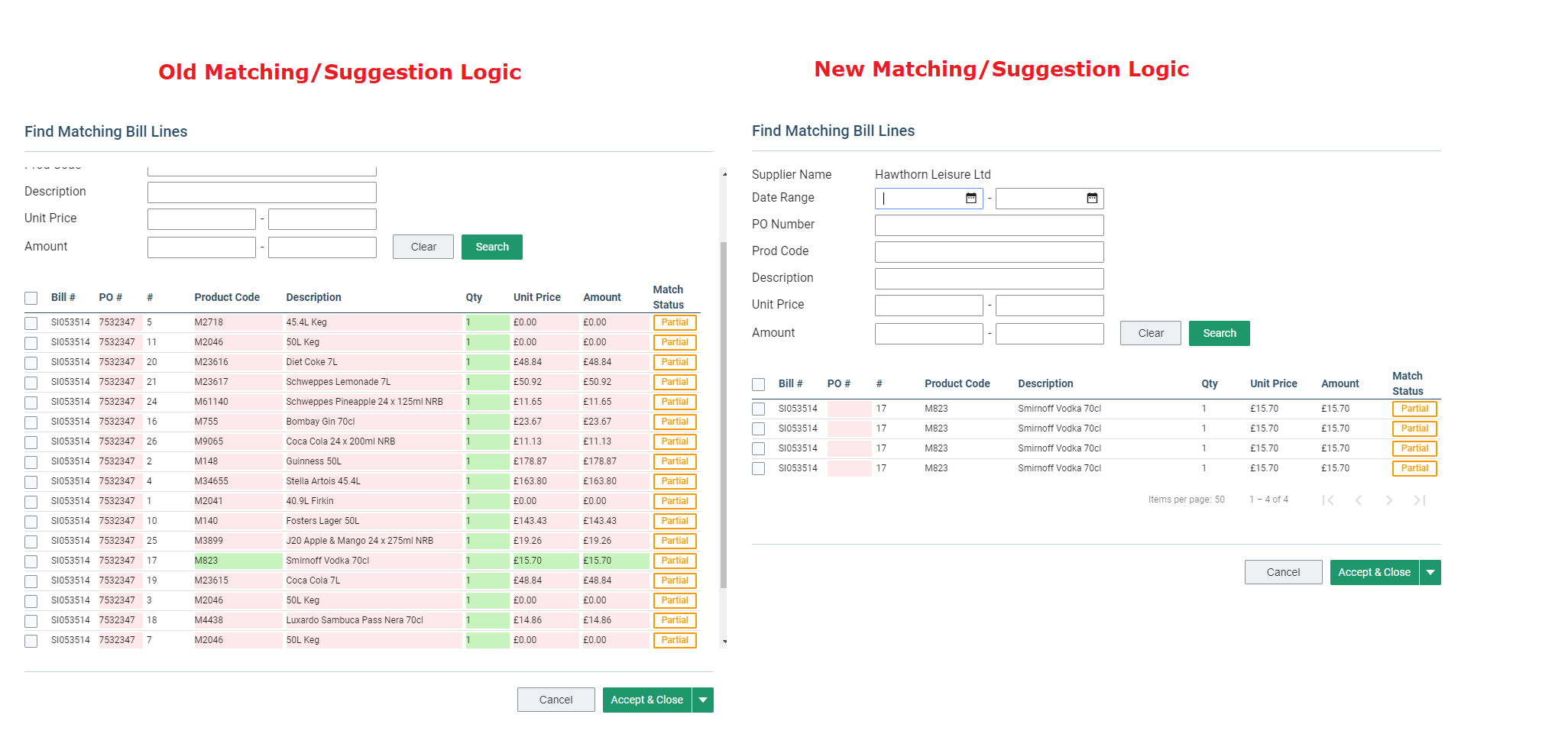 To set this criteria, go to Company Settings > Purchase Orders > Line Matching Rules and select the desired Selection Criteria. The Suggestion Criteria option will only display on lines where Matching Criteria is selected.

Please Note: When a Full Match is met through the Matching Criteria, this will match as normal. Suggested Criteria will be displayed in the case where there is not a full match.
Invoice Amount Column in Panel 1 in My Tasks

While in My Tasks, users can now view the Total column by adding this via the 3 dots in the top right. This column will display the total value of the invoice.


Similar to the other columns, click the header Total to sort in ascending or descending order.

4th February

Enhancement: Accounting Software: Sage Business Cloud
When connected to Sage Business Cloud, we can now import additional information from your Sage Business Cloud account, including Default GL Codes, Bank Details, Country and Currency linked to each supplier.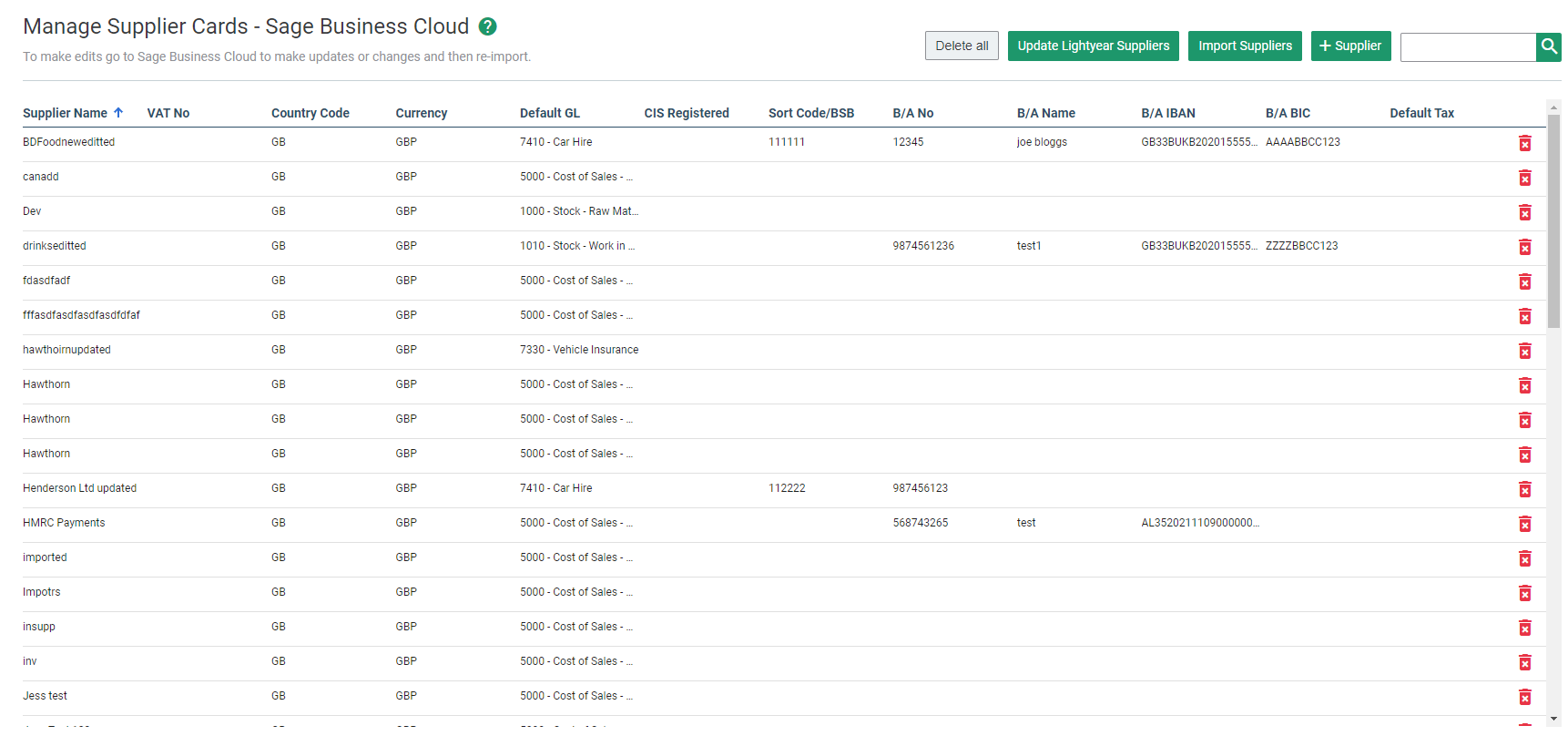 This information from Sage Business Cloud can be used to Create and Update suppliers within your Lightyear account.
Users can create a Supplier within Lightyear that will also be created within the Sage Business Cloud account at the same time.
For full information on how this works, and how to use this feature, please click
here
.
Bug Fix: Large Invoices Stuck in Workflow

Invoices with 800+ lines applying Tax Rates, GLs and Categories were unable to be Saved or Approved within the Approvals Workflow due to the amount of information that was trying to be processed.
We have increased the upper limit to allow larger invoices to process through Lightyear more seamlessly.