You can upload your receipts directly into Lightyear through the browser (as well as via the
mobile app
).
If you choose to upload receipts through the browser we'll automatically extract
summary data
via our
Smart Extract
technology (just like we do through the mobile app), meaning you no longer need to manually enter receipt information for company card payments or expenses.
We will extract the following information:

Receipt Totals & Tax - We'll take the total amount from the receipt, and break this down into taxed and un-taxed totals

Receipt Date

Receipt Number

Supplier Name
Whichever way you choose to upload receipts into Lightyear,
you need to ensure that you tell Lightyear that what you are uploading is a receipt
(and not a scan/image of a bill). The reason is that Lightyear uses the Smart Extraction engine to extract data from receipts. Receipt data-extraction is different from bill data-extraction, so please read carefully below how to identify the image as a receipt. Details on extracting data from images of bills can be found
here
.
Let's take a look at how it works.
---
Sending Receipts to Lightyear

In order for us to automatically extract data from a receipt, you'll need to use either the Upload function in the Processing Tab, upload them through the mobile app, or email directly to Lightyear by adding +receipt to your email address e.g.
lightitup+receipt@lightyear.cloud
(Coming Soon)
Upload in Lightyear, through a browser

Once you select the Upload button and selected some documents to upload, you'll notice a dropdown. Select Receipt. By default, the option for Smart Extract will be selected and cannot be unselected.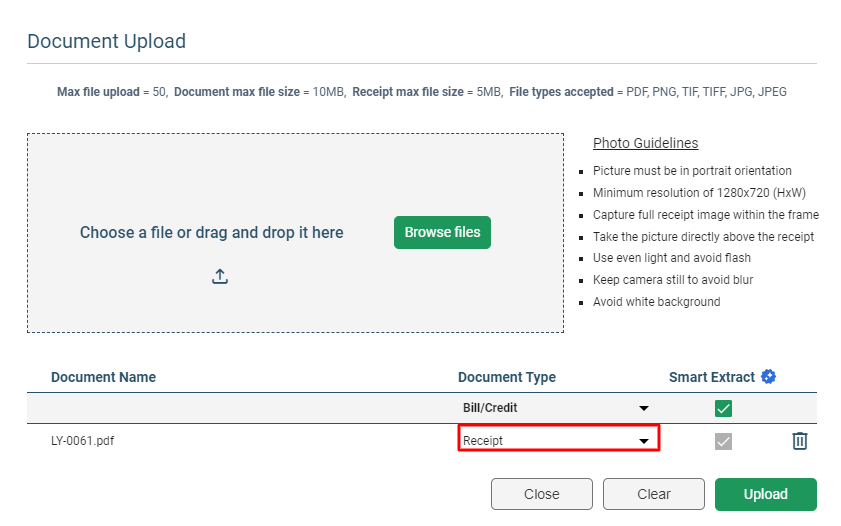 Once you select this, you'll see a list of Photo Guidelines. We advise following these as best you can, to ensure the best results when we're extracting the data.

If you upload a receipt without selecting "Receipt", it will still arrive in the processing tab for manual entry and will not run via our Receipt Extraction engine, unless you've ticked Smart Extract in the Upload Modal.

Upload through the Mobile App

You'll need to select the Receipt option, for us to automatically use Smart Extract. Anything sent as a Bill will remain in the Processing Tab until it is manually entered or switched to Smart Extract.

You can also set your default setting to Receipt within the App settings, this will automatically send every picture uploaded via Smart Extract.

---
Once a receipt has been uploaded, it will take a few minutes for us to Smart Extract the data from the receipt. You'll see the receipt image in your processing tab immediately, but you'll also be presented with the below in Panel 2: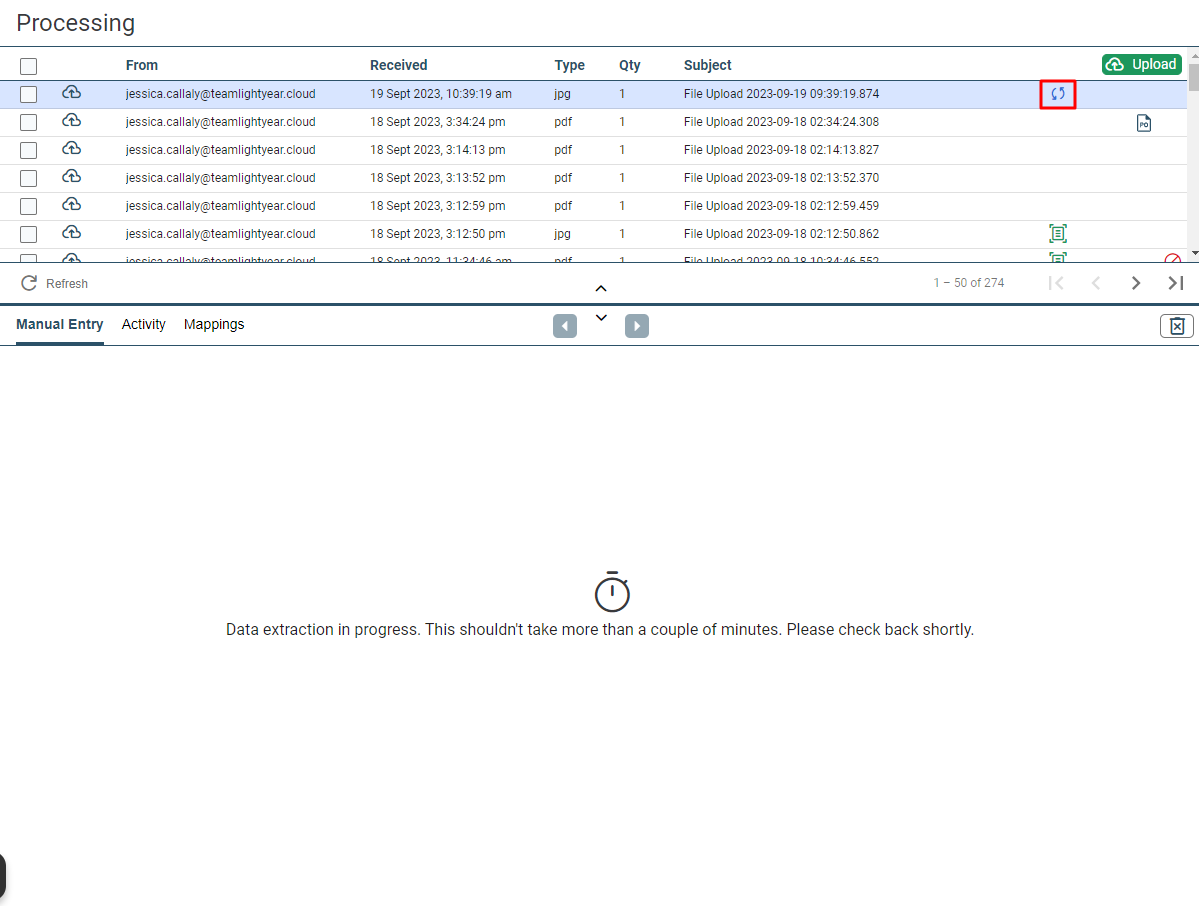 Once the receipt has been processed and the data has been extracted, you will see the green Smart Extracted icon. Once the receipt has been processed, the extracted data will display in Panel 2 within the Manual Entry tab.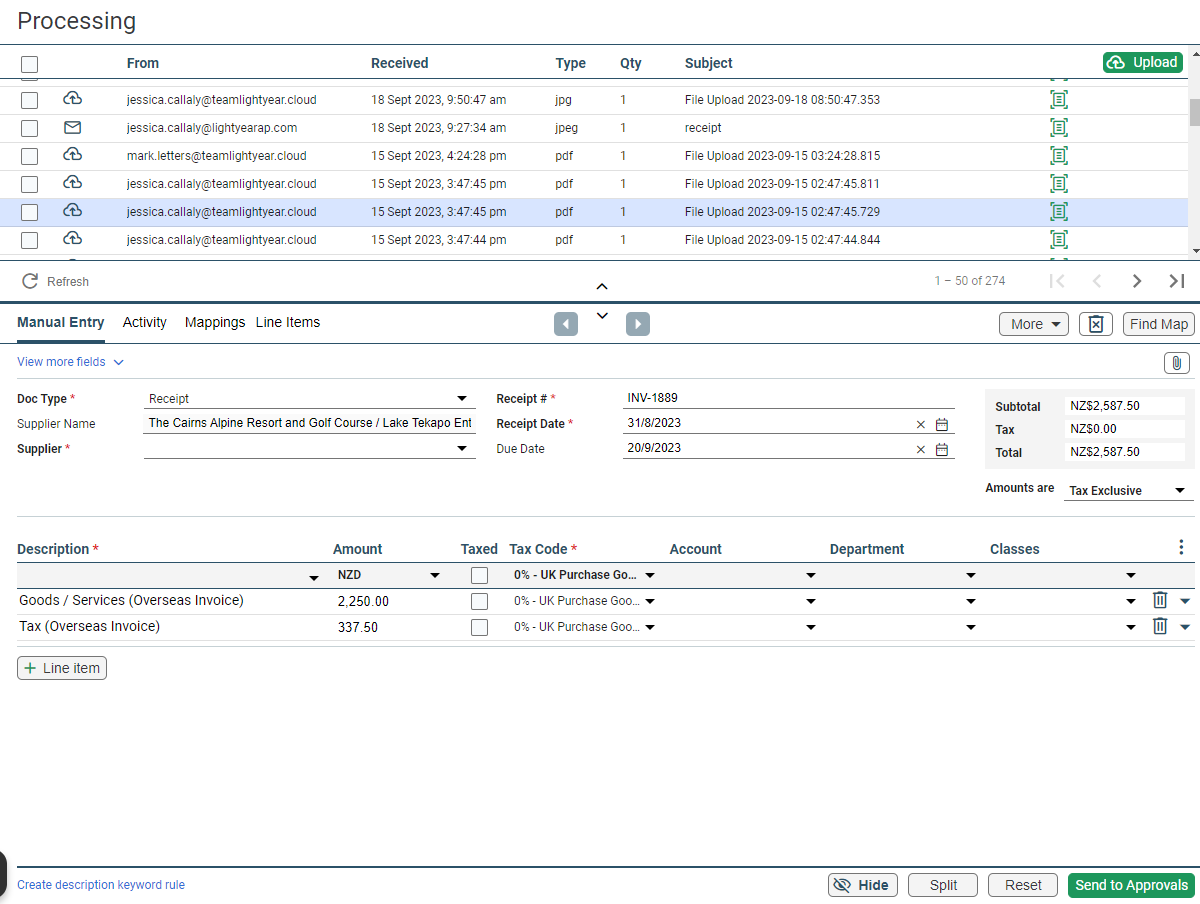 As mentioned above, we will extract the following information:

Receipt Totals & Tax - We'll take the total amount from the receipt, and break this down into taxed and un-taxed totals

Receipt Date

Receipt Number

Supplier Name

Any of the information that has been extracted can be edited or adjusted as normal. Once you're happy, just select a Supplier from the drop down as you would with any other bill, and the receipt will move to the Approvals Tab. If the supplier name is new then you simply need to create a new supplier from the processing tab, as you normally would for any new supplier.
Moving forward, any receipts received from this same supplier will flow straight through to the Approvals Tab so long as the extracted supplier name is an exact match to an existing supplier in Lightyear. So, if the supplier details extracted from the receipt is Officeworks, and you have a Lightyear supplier called Officeworks, the receipt will immediately be associated with that Officeworks supplier, and move to the Approvals tab linked to that supplier. But, if your Lightyear supplier is 'Officeworks Bondi Junction', Lightyear will not automatically associate the receipt with that supplier, meaning that the receipt will stay in your processing tab until you manually associate it with that supplier.

If we're unable to automatically extract a receipt number from a receipt uploaded via the Mobile App or the Processing tab, we'll instead auto-populate this field with the date of upload, followed by a digit to indicate how many receipts you have uploaded today. EG, if it was the third receipt you have uploaded, the Receipt Number would be populated with '080819-3'.