Smart Extract is Lightyear's next generation AI technology that extracts data in almost real-time from your Bills/Credit Notes/Receipts. Ideal for one-off documents where a reusable map isn't needed, handwritten documents and poor quality scans that our traditional mapping method can't accurately extract.

Please Note: During Beta, Smart Extract will extract Summary Data only.
Smart Extract has the ability to extract the following information:

Supplier Name
Bill Number

Bill Date

Due Date

Purchase Order Number

Tax Total

Invoice Total
There are a couple different methods to use Smart Extract within Lightyear:

Document Upload

Email

Mobile Phone

Document Upload

Upload and Smart Extract

If you want to upload a document to Lightyear, and know you want to use Smart Extract from the get go, you can click the Upload icon

Click Browse Files to find the document(s), or drag and drop the document(s) into the Upload modal.

The far right column is for Smart Extract. As a Bill/Credit, this will be deselected by default, but can easily be selected by checking the box.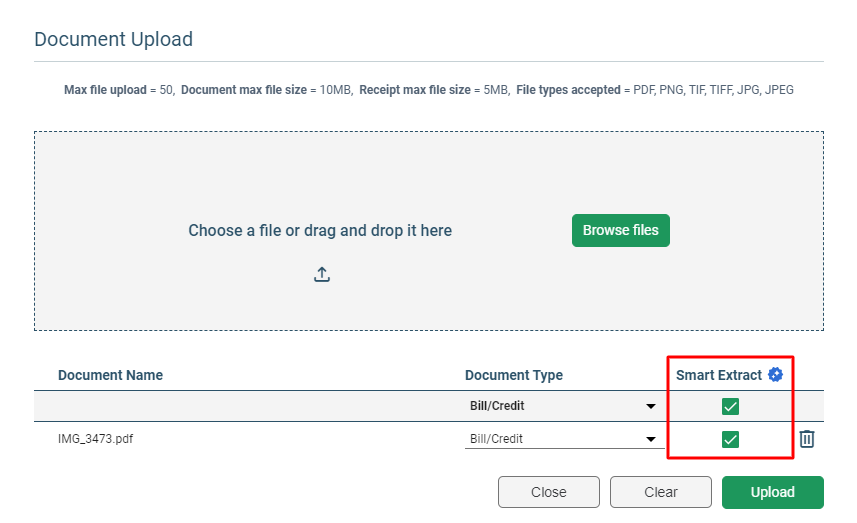 Please Note: When uploading a Receipt, Smart Extracted will be selected by default and cannot be unselected. And for a Purchase Order, Smart Extract isn't available.
After clicking Upload, the document will appear in your Processing tab and will begin to Smart Extract.
If you've already uploaded the document to Lightyear, without Smart Extract, you can easily switch anything to Smart Extract within Processing.

In the Mappings tab in Panel 2, you will see 3 options:

Map My Data

Smart Extraction

Manual Entry


To Smart Extract a document, click the Smart Extraction option. The document will then begin to Smart Extract.
Email

If you prefer to Email documents into Lightyear, you can also use Smart Extract via this method.

When the document(s) are sent, they
will appear in your Processing tab and will begin to extract.
Mobile App

If you have the Lightyear App installed on your mobile phone, you can take photos of documents and receipts to be sent into Lightyear.

When you have the Upload as Receipt option enabled, all documents sent to your Lightyear account will automatically be Smart Extracted.

Simply upload an image via the mobile app, or capture an image directly from the mobile app, and click Upload. Once sent to your Lightyear account, the document will begin to
Smart Extract
.
With every upload method, the documents will first appear in the Processing tab and begin to Smart Extract.


After completion, one of two things can happen.

If we extract a Supplier Name and it does match one already created within your Lightyear account, the document will automatically move into Approvals with the extracted data.
If we extract a Supplier Name and it doesn't match to one already created within your Lightyear account, Panel 2 will refresh and the data will appear in the Manual Entry tab. You can then check the data to make sure it's correct and create/select a Supplier from your list.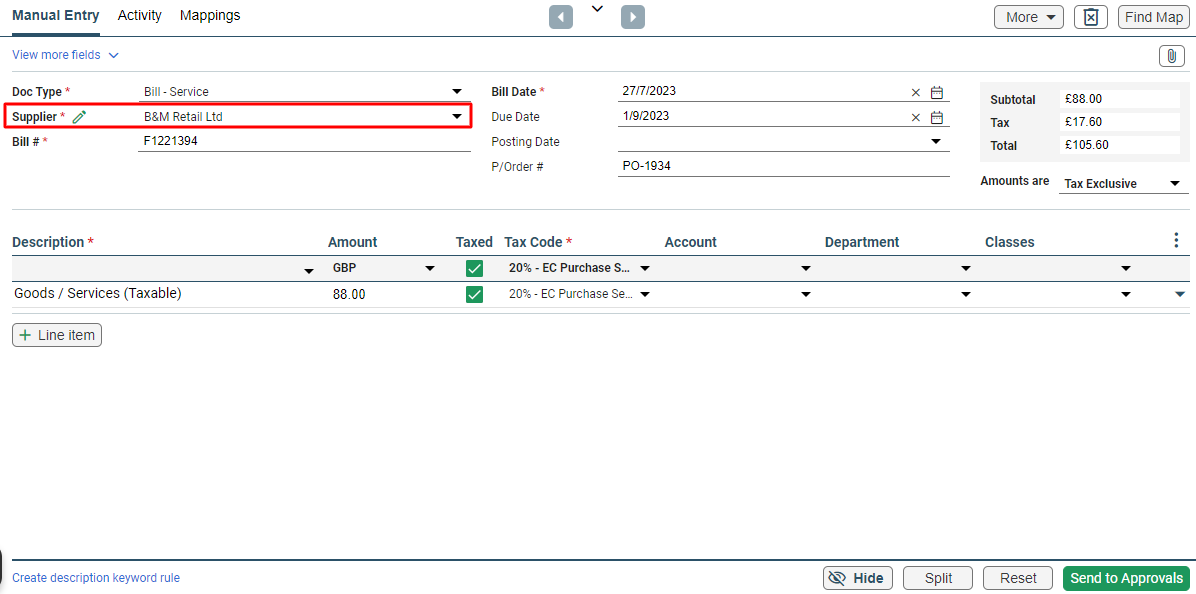 When you're ready, click Send to Approvals and the document will move through and apply any automation or approval rules set against the Supplier.
Our traditional mapping and templating extraction technology isn't going anywhere! You can still request or search for existing maps. But, as mentioned previously, there are some cases where you might want to use a Map, and others when you want to use Smart Extract.

Situation: My supplier has sent me a scanned copy of my bill and the scan quality isn't the best or the scan isn't as straight as it could be.
Extraction Method: Smart Extract will extracted the wonkiest of scans, rotated images or documents where the scanner hasn't quite picked up what it's needed to.
Situation
: My bill is clearly formatted and it's easy to pick out where specific pieces of information are.
Extraction Method
: Map My Data can accurately extract data from documents where the layout is easy to read and it's possible to clear distinguish between different data points.
Situation
: My supplier can only provide handwritten bills.
Extraction Method
: Smart Extract is great for extracting handwritten bills
Situation
: I need to pay my bill now and can't wait for a map.
Extraction Method
: Smart Extract can extract your data in around a minute!
Situation
: This bill is recurring and I may get 100s within one month.
Extraction Method
: Map My Data is best for recurring documents that you receive frequently. Get the document mapped once and it will always flow straight through into your Workflow in future.
FAQs

Smart Extract extracts your data in real time, using our very own built in logic to figure out which piece of data relates to which field within Lightyear.

So the simple answer is, you can't, there are no maps!

If you have uploaded a Supplier Document via Smart Extract previously, and are now uploading the same Supplier Document without Smart Extract, Lightyear won't remember that you want this to be Smarted Extracted... yet.

During Phase 1, Smart Extract needs to be triggered manually on each document, via the above methods, to extract the data.

Why has my Document Disappeared from Processing?

If you have a Supplier in your Lightyear account at the point of Smart Extraction, once the data has been extracted, the document will automatically move into your Approvals tab, as we know which Supplier to match it to.

If you import your Purchase Orders into Lightyear, you will be familiar with this flow.
Why is my Document Appearing as Manual Entry Only?

If you are seeing the manual entry icon

in Panel 1 there will have been an issue with the Smart Extraction.
Be sure to check in Activity to see the error message - the most common issue will be related to the number of pages. Smart Extract has an upper limit of 5 pages currently, anything higher than this will fail.