Connecting to accountsIQ

Setting up and connecting Lightyear to accountsIQ is a quick and easy process.

From the left hand ribbon, head
over to Settings > Acounting Software > Select accountsIQ > Connect.
A popup will display asking for a
User Key
and
Entity ID
.
To find your User Key, in accountsIQ, along the top banner go to Set Up > Company Details & Settings.

This will open another window. Along the banner of this window, click Integration. In the Please type in your password: field, enter your password for your accountsIQ account, and click Request User Key. This will display the User Key that needs to be entered in Lightyear. Copy this and paste it into the User Key field in Lightyear.

The Entity ID is the ID you are presented with when you first log into accountsIQ. Copy this and paste it into the Entity ID field in Lightyear.

Once User Key and Entity ID are populated in Lightyear, click Save and Import.

---
Software Settings
Continuing with the set up, there are some unique software settings for accountsIQ.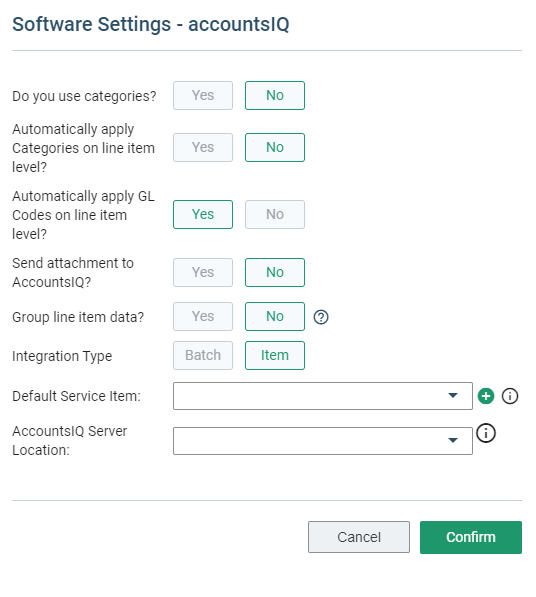 These include:

Do you use categories?

For those using categories in accountsIQ, you can select

Yes

for this option to allow us to code within Lightyear and export the details to AccountsIQ. Save time by coding it in Lightyear, and we'll remember the next time we extract the line item what your preferred category settings are too! If you do not require categories, you can simply select

No

.

Categories in Lightyear are the same as BI Codes in accountsIQ
Automatically Apply categories on line item level?

By default, Lightyear will automatically apply categories at line item level based on various rules. You can choose for this feature to be disabled. More about this can be found below.

Automatically apply GL Codes on line item level? By default, Lightyear will automatically apply GLs at a line item level based on various rules. You can choose for this feature to be disabled by selecting No.

Send Attachments to AccountsIQ?

Selecting this option will send any attachments from Lightyear, along with the original invoice that was uploaded to Lightyear. In accountsIQ you will be able to view any attachments by clicking the

icon.

Group Line Item Data? Turning this on will allow you to export Grouped GL data, rather than line item data. For the full article on this, click here.


Integration Type

If you want to send invoices into the Batch Invoices area of AccountsIQ, select Batch. Otherwise, select Item to send into the Item Invoices area.

Speak to our team to see what the best option for your business may be!

Default Service Item:

This will only be available if you have selected Item as the Integration Type.

All invoices exported from Lightyear will be allocated to this service item, which corresponds to the Active Items under the Services/Non Stock Items - Active Items within accountsIQ.

You will not be able to export without this!
AccountsIQ Server Location When you are logged into AccountsIQ, you will be on a specific server - this server can be found in the URL of your AccountsIQ account.


In this example, we are on the UK server, so in the dropdown we would select UK.

---
Supplier Cards

Supplier Cards are what Lightyear uses to connect a Supplier in Lightyear to a Supplier in accountsIQ. Any existing Suppliers in accountsIQ will appear here after connection, and you can create more using the Add button at the top.
When you connect to accountsIQ, by default your list of existing accountsIQ suppliers are synced to Lightyear.

Head over to Settings > Accountancy > Supplier Cards > Import Suppliers from accountsIQ.

---
GL Codes

Active GL codes are all synced with accountsIQ when you connect your accountsIQ & Lightyear accounts and displayed within the GL code section of Accountancy Settings. The GL codes are all listed in a long list.

If you make any subsequent updates to your GL's within accountsIQ, you simply need to go to Accountancy Settings > GL Codes in Lightyear, click import from accountsIQ, this will refresh your list.

If you wish to reduce the number of GL Codes that Lightyear presents to you in its drop down lists, then deselect the tick boxes for those particular GL codes that you do not want to have displayed.
---
Tax Rates

When you initially connect to accountsIQ, Lightyear will automatically import all your accountsIQ defined tax rates.
Once your tax rates are uploaded into Lightyear you need to
choose two
accountsIQ tax rates to act as the defaults for
taxable
and
non-taxable
items.
Lightyear will use these defaults to send the relevant tax code to accountsIQ if a line is taxed/tax free, this is unless you choose to manually assign a different non-default tax rate to the item from within Lightyear's Bill Review section.

To choose your 2 defaults go to the
Settings > Accountancy > Tax Rates

The below image shows what a typical setup looks like. We have ticked the 2 standard rates (Standard Rate and No Tax Element):
---
More about Automatically Applying Categories
By switching this on, Lightyear will remember the Categories you have previously selected, and automatically apply these the next time the invoice is received in the Approvals tab.
This can be set as a supplier default, meaning one Category will be selected for all lines of an invoice, or it can be set on a line-by-line basis, based on the product code.

To set as a supplier default, go to your Supplier, and under the Category field, select the required option from the dropdown:

To set on a line-by-line basis, go to your Supplier > Products. Click the green pencil on the item you want to edit, and under the Category field, select the required option from the dropdown: