In Supplier Cards, Lightyear can import the Country Codes from your Accountancy Software. This can then be used to create Lightyear Suppliers by using the Update Lightyear Supplier feature. There are instances where some Accountancy Software don't store the Country Code, or the Country Code they store is different from Lightyear, e.g. GBR vs GB, USA vs US.

For more information on this, and the information that can be imported, go to your
Accountancy Software
section and find the
Connecting to...
article.
Changing Existing Supplier Country Codes

In the case where your Accountancy Software stores a different Country Code than what Lightyear is expecting, e.g. GBR vs GB, you can set these in bulk to be overwritten when using Update Lightyear Suppliers.


Click
Update Lightyear Suppliers
. If there are unknown Country Codes, you will see this modal with a list of the countries that need updated.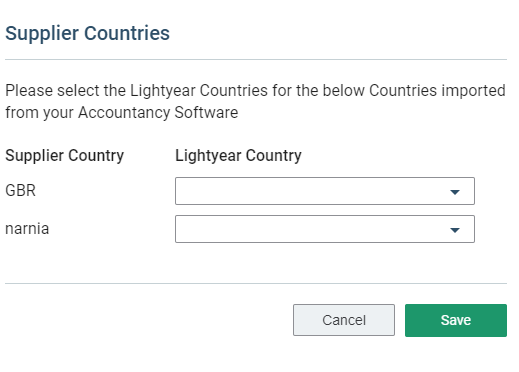 In the dropdown menu on the right, under Lightyear Country, select the relevant Country Code that relates to the Supplier Country.
Once these are filled in, click Save.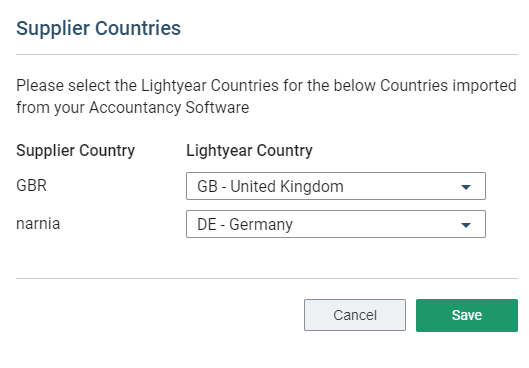 When you move through to continue with the Update Lightyear Supplier process, the Lightyear Country Codes will be used to create the Lightyear Suppliers.

Setting New Supplier Country Codes
Where your Accountancy Software doesn't require a Country Code to create a supplier, these will be imported into Lightyear as blank, which can cause issues when creating a Lightyear Supplier as we don't know the relevant currency and information surrounding tax.

To fix this in Lightyear, you can go through each supplier individually and select the Country Code on the line, or use the global selector on the first line to change all Suppliers on the page in bulk.

Once these have been changed, click Save Changes

, you can move ahead and
Update Lightyear Suppliers
to create your Lightyear Suppliers.

Frequently Asked Questions
How Many Suppliers Can I Edit At Once?

Using the Global Selector on the first line, you can edit up to 50 suppliers at once. This is the full page of suppliers you are viewing.

I'm Seeing a Leave Page? Modal. What Does This Mean?

After you've set your Country Codes on the page, you will need to Save Changes

in the bottom right before you can move onto the next page, or Update Lightyear Suppliers.
Why Can't I Update Lightyear Suppliers?

If any Supplier is missing a Country Code, you won't be able to move through to the Update Lightyear Suppliers modal. Be sure to check all pages for any missing Supplier Country Codes.

You will see this error message when this is the case:


Why Can't I See The Country Code Column or Update Lightyear Suppliers Button?

Only the Accountancy Software's connected via an API will see this feature, i.e. MYOB, Xero, Sage Intacct, Sage Business Cloud, QuickBooks Online, NetSuite. Those using a CSV import/export will not have the ability to set this.