How to Re-Export Invoices
Once an invoice has been exported and has gone to the Archive tab it cannot be removed or edited. If editing the invoice in the accountancy or inventory software isn't feasible, then you may want to re-export from Lightyear again.

---
Re-Exporting a batch of invoices

To re-export a batch of invoices go to the Archive tab. In the Doc Type field, select Exported Batches
In the File Created field click on the drop down box & select the file date/time you need to re-export, then click on the Search button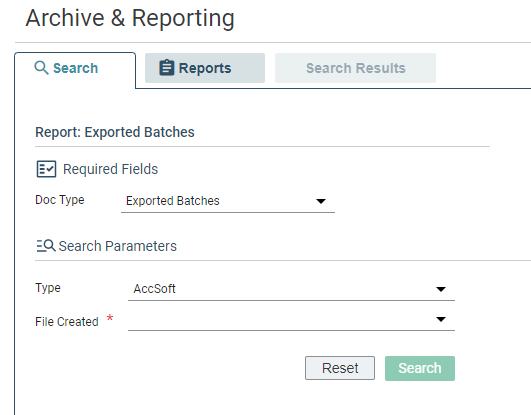 Within the Search Results tab you will have the ability to Re-Export to your Accountancy Software.



Please Note: Depending on your Accountancy Software you may not see this button. Only users that are connected to a software that generates a CSV will have the ability to Re-Export.

Please Note: You cannot make any changes or edits to the invoice before it's re-exported. It will export the batch exactly as it was previously. If you need to re-export due to an error in the data, please reupload a copy of the document to Lightyear and export again with the needed changes.
Re-Exporting a single invoice

Firstly, you will need to email yourself a copy of the invoice and then email it back into your Lightyear account. To get a copy of the invoice, highlight it:
Download the attachment from Panel 3 and Upload the document again into your account
Click on More > Email to Me.

Once you receive it you can forward it to your @lightyear.cloud email address
When it arrives in the Processing tab you need to apply the map and make sure everything is in order. If the map that was applied to it originally was correct, then it helps to find out which map number you used from the Invoice history and apply the same one (or perhaps a different one).

Warning: When the second copy arrives in your Approvals tab, both will be flagged with a red duplicate icon.
You may therefore want to leave a note stating what's been done and why, otherwise it may cause confusion later on. Don't forget to put a note on the original invoice as well as the new invoice. It will serve as a great reminder and wider visibility to other users.
Related Articles

Can I move bills into the Archive without exporting?

Yes, you can! Sometimes you just need to move a bill into the Archive and you don't necessarily want it in your accounting software. You can do so from one of two tabs within Lightyear. 1. Signed Off - Move to Archive You can select bills and Archive ...

Old Archive vs New Archive & Reporting

If you've been a user of Lightyear for a couple of years, prior to the 12th August 2022 release, the new Archive & Reporting tab may be a bit confusing to get your head around, but don't worry! This article should help you use the Archive & Reporting ...

Advanced Reporting

Click here to view the full video guide on Archive & Reporting Pre-Existing Reports Lightyear has a variety of pre-existing reports to be run within the Archive & Reporting area. To view these, head to the Archive & Reporting tab along the left hand ...

Archive

The Archive & Reporting tab allows you to search for a variety of document types, in a variety of different places within Lightyear, and create Reports. Click here for a comparison between the Old Archive and New Archive & Reporting feature, released ...

Can't find a document in the Archive?

The Archive can be a little confusing at first, because as well as displaying your exported invoices, it will initially by default show you 'All Bills', meaning invoices in the Approval, Review, Signed Off, Disputed Tabs & exported documents. The ...