22nd December

Accountancy Software: Supplier Cards - Character Limit Increase

Users can now Create and Import Supplier Cards with up to 300 characters.
Anything Imported that is longer than this will be truncated at 300 characters.

Bug Fix: Archive

Export Batches

Some users were experiencing an issue in Archive while trying to re-export a batch of previously exported invoices, whereby only one document was re-exported.
This release allows users to correctly re-export with the whole batch, rather than an individual document.
Return to Signed Off (Executive Approval)

Accounts using Executive Approval were unable to use the Return to Signed Off feature within the Archive.
These accounts will now be able to use this feature as intended. Information on this can be found in the Release Notes from 19th December.
19th December

Archive: Return to Signed Off and Export Document

Within the Archive, users with Admin or Review & Export permissions can now return a Bill/Credit Note/Receipt from the Archive to the Signed Off tab, or Re-Export a single
Bill/Credit Note/Receipt from the Archive. Accounts connected to non-API Accountancy Software will be able to re-export from Archive, those connected to an API (e.g. Xero, MYOB, QuickBooks Online, etc.) will need to first Return to Signed Off in order to Re-Export.
To do this, find a document in Archive that has already been Exported or Archived, click More > Return to Signed Off (to Unarchive) or Export Document (to export the single document).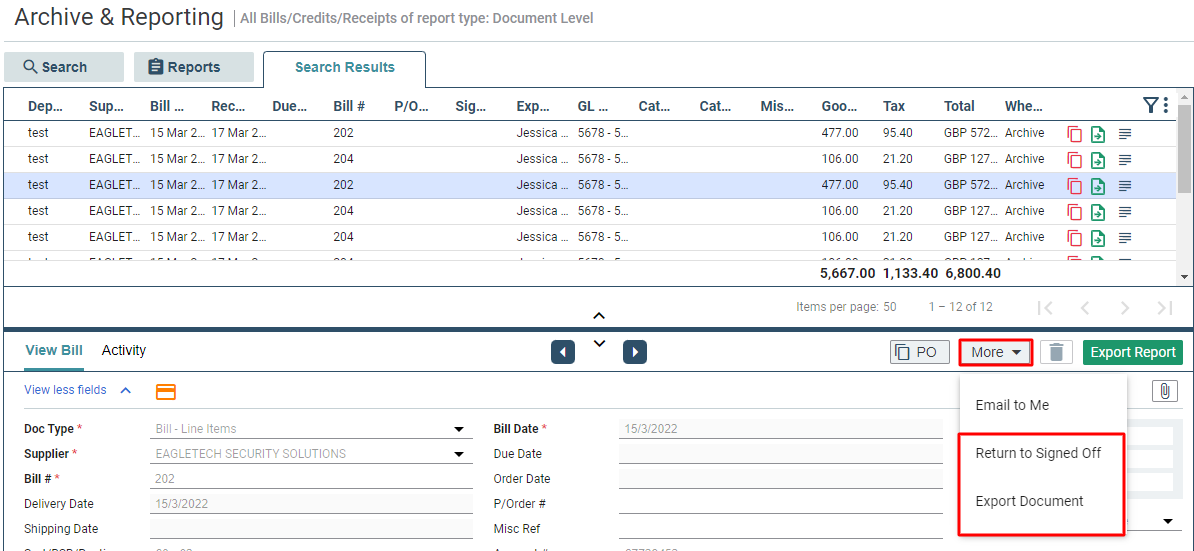 Please Note: Return to Signed Off and re-exporting the document, or Export Document straight from the Archive will not charge an additional credit.
12th December

Document Orientation in Panel 3

When a document has been rotated in Panel 3, this orientation will now hold if you click onto another document and back to the first.

Please Note: if you upload a document that has been rotated, we won't be able to create a map for you at this time. This change is a visual change within Panel 3 to make it easier to view the image, rather than to change how we extract the data.


Warning: If you use Firefox as your browser, this feature may not work as intended.
Download of File Naming Convention

If you need to download a document from Lightyear - whether this is a bill, credit note, receipt or PO, this will now download with the original file name used when uploading the document.
Previously the document would download with the generic file name Lightyear Doc.