While Lightyear supports many different types of accounting software, either through a direct API or a predefined export, you may be using one that isn't yet formally supported. Well, good news! If your accounting software supports either a .csv or .txt upload, you can now create a custom export in Lightyear.
Setting up your 'Other' accounting software
As Lightyear doesn't directly integrate with your accounting software, you'll need to upload some important information before you can start processing and exporting bills. Lightyear requires you upload your:

Other Suppliers
Chart of Accounts

Tax Rates

Categories (if you use them)

Note that the above terminology may differ from the terms used in your accounting software. The easiest way to upload this information is by using
Bulk Upload
. Basically, Bulk Uploading, is populating a csv template with your details in the relevant pre-titled columns. Upload that file to Lightyear and your information and data will be ready.

These csv templates are attached to this article down below
Creating your Custom Export

Before you start creating your custom export, make sure you know what layout they require for a successful upload. It may not be the same for each accounting software, so you may need to check with them to see what they need.

Once you're ready to go, head into the Accounting Software > Other, then click Edit next to Export Mappings.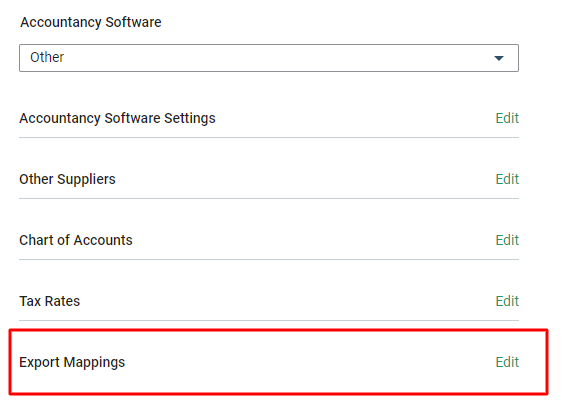 You'll be taken to this screen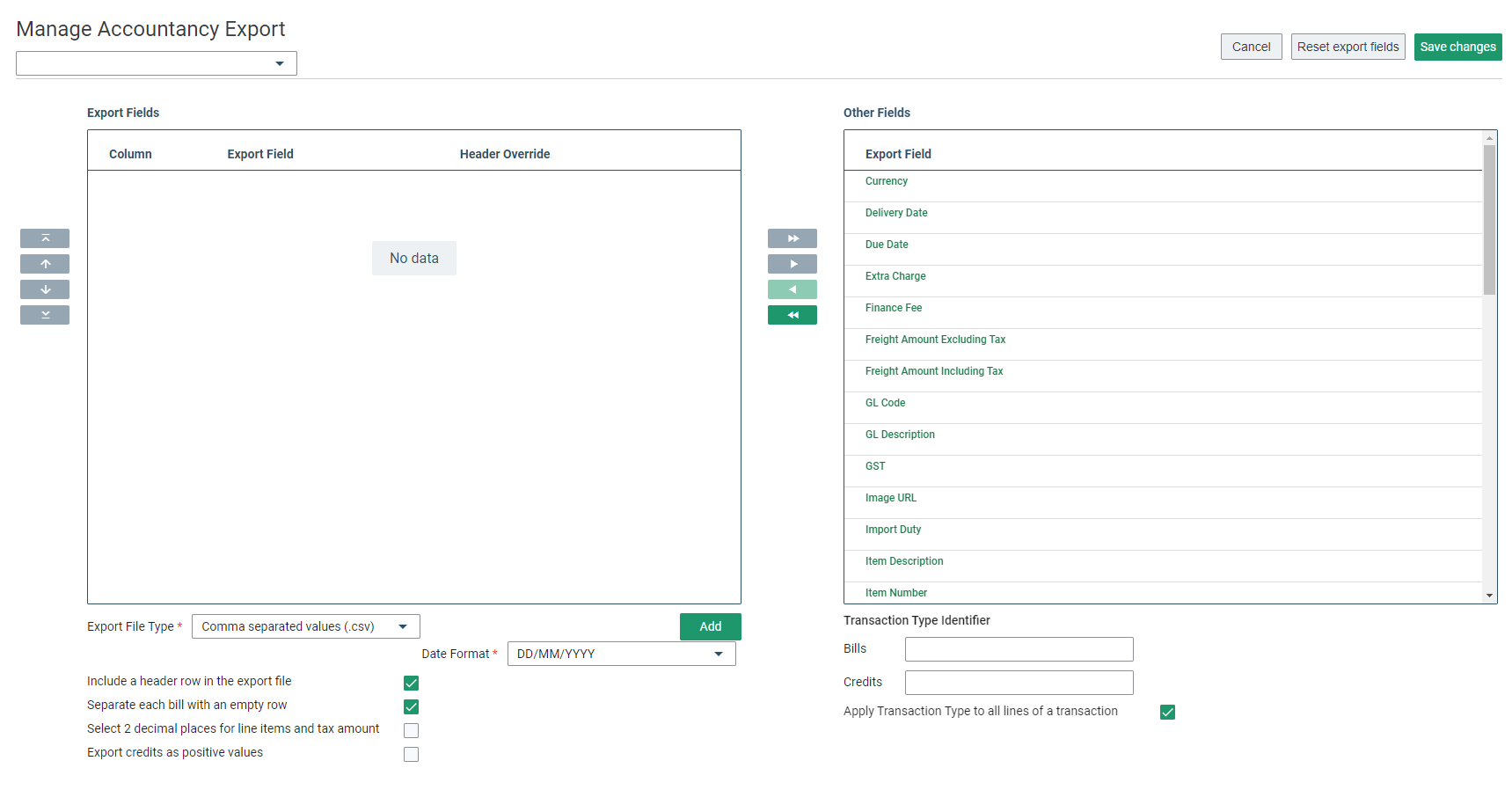 It may look a little scary, but it's actually really simple. Think of these two boxes as a trolley and a shelf. You'll take what you want from the shelf (from the right) and drop that into your basket (to the left). You can then delegate the headers to columns, as you can see, those letters to the left are the columns on you csv. Let's break it down.

Export Fields - These are the fields that will be exported to your .csv or .txt file. Move these across by selecting the field you want in Other fields, and click the left pointing arrow. You can reorder these using the up/down arrows to the left. The Column letter shows which column this will populate on your csv

Include a header row - Check this box if you want the export to include the name of the field in the top row of your csv

Separate each bill with an empty row - Pretty self explanatory, on your csv we'll add a blank row after each invoice

Select 2 decimal places as default - Currently Lightyear defaults to 4 decimal places. Enable this to switch to 2 decimal places
Export File-Type - A drop down to select whether we export your file as a .txt or .csv. The type you choose will depend on what your accounting software requires.

Add - Allows you to add bespoke columns, defining the column header.


Lightyear Tip - You can set a default value for any bespoke columns, this could even be an excel formula to output data based on the other values you export, for example if you had a requirement to calculate the cost of a line without any ancillary fees such as Freight, Finance, or Extra Charges that might look like =A2 - SUM(INDEX(B:D,0)) where column A is the total cost, and columns B through D are the ancillary charges.

Transaction Type Identifier

On the right hand side of the screen, under Other Fields, you will see 2 extra boxes called Transaction Type Identifier. Here, you will be able to set what your Bills and Credits are exported as. For example, if you need all bills to be exported with an identifier of 'PI' for Purchase Invoice, and 'PN' for Purchase Note, you can enter these in the relevant fields. When doing this, don't forget to add the 'Transaction Type Identifier' to your Export Fields, and move it to the relevant position for importing to your Accountancy Software.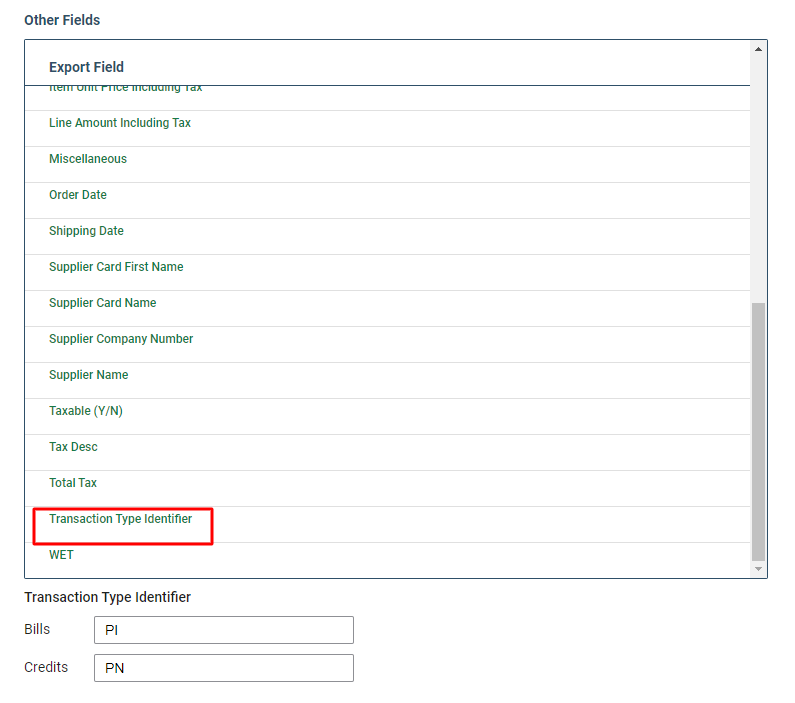 Remember, there's no real penalty for getting this wrong and nothing is set in stone. You'll only be charged a credit for the initial export of a file, so feel free to go in and change the layout and re-export the same batch until you feel you have it right. Batches can be re-exported from the filing cabinet.

Using a Template

If you have multiple Lightyear accounts, set up to use the same Export Field format, you can reach out to our Support team and they can create a Template for you to use.

Once created, this will appear in the dropdown menu in the top left of the screen:


If you need to make any adjustments to the fields, add in any extras or apply a Header Override, do this as you normally would without a template and click Save. This change will apply to the Lightyear account you're currently logged in to. If any adjustments need to be made to the Template overall, you can ask our Support team to change this for you.

If any changes are made to the Template, you will need to go into Export Mappings and re-select the Template to apply the changes.

Need to Calculate to 2 Decimal Places?

If your Accountancy Software needs to calculate to 2 decimal places, Lightyear can be customised to match this!

In your Software Settings, enable the Do you want to calculate to 2 decimal places? option. This will change the display and calculations within the Approvals Workflow.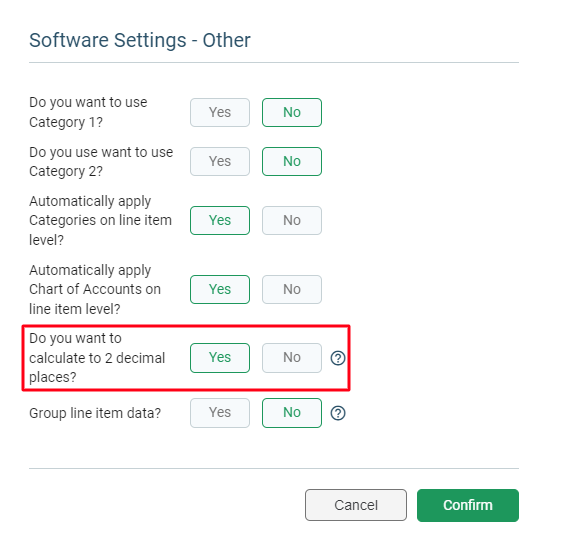 When this is enabled, you will need to go to Export Mappings and enable the
Select 2 decimal places for line items and tax amount setting concurrently. This will adjust the CSV Export file to 2 decimal places.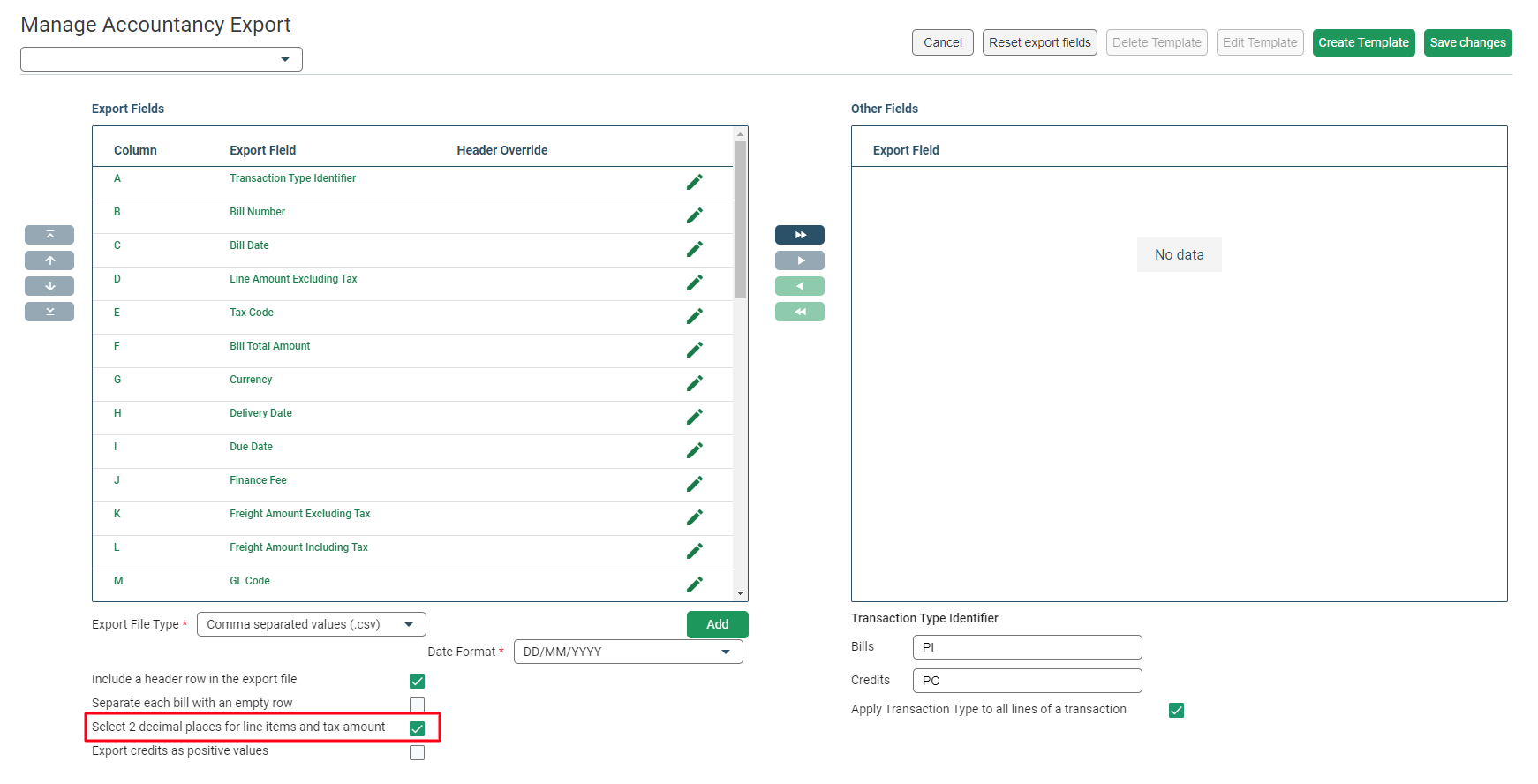 Warning: If both of these settings are not enabled, the calculations between Lightyear, the CSV file and your accountancy software may be mismatched and the CSV may fail to import.