Yes, you can do this in Panel 1 anywhere in the app. Lightyear allows you to Sort through the header columns in Panel 1 in ascending or descending order. Alternatively, if you want to filter your view to just look at a specific filtered set of lines, you can do so with our Filtering feature. You can even use both of these combined! Let's take a look at the below.
Sorting

Simply select a header column in Panel 1 anywhere in the app. This will automatically sort in ascending order. Click again to switch between ascending/descending orders. The little blue arrow will appear to indicate which order it has been sorted to.


You can even have different preferences for different tabs and it will remember your sort preference for each tab. To reset your sort preference, simply refresh the page and it will return to default settings i.e. time of arrival.

Please Note: A sort can be applied to all columns in Panel 1 except Task.
Filtering

Filtering is triggered by the funnel icon on the right of Panel 1. Click on this present/hide the filter panel. When triggered to present you will the options to select what you'd like to filter by. You can also select multiple filters in this section.



When selected, the Supplier tab will only show the first 50 results in your list. As you start to scroll down, more will load. If you know what you're searching for, start typing and we'll display the suppliers that match.

Task Filters

Filters can be applied to the Task column to filter on Approvals, Manager Approvals or Conditional Approvals. Other Filters are a flat list, whereas the Task Filter allows you to filter on Task Status, Task Owner or a combination of both.

From the dropdown list, select the parameters to filter on. If you want to mix and match the parameters, select from Statuses and switch over to Task Owners. When you switch between options, the previous parameters will still apply until Cleared out.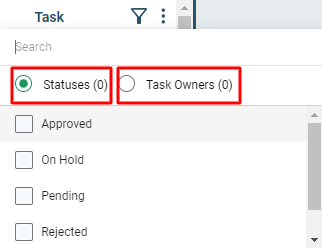 Reset selection from sort/filter options
Keep in mind, if you've selected bills in bulk, whenever you select a sort/filter option, this will reset your selection. If you select all again, you'll see the number of bills selected appear at the bottom left of Panel 1. This will select all bills in the tab rather than the ones you just see.